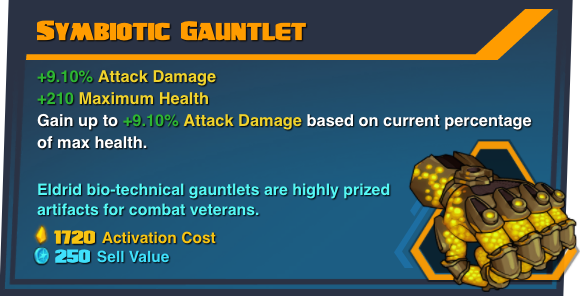 Gear Description:
The Symbiotic Gauntlet is a legendary piece of Gear  that increases the Attack Damage and Maximum Health.
Legendary Effect:
The legendary effect on the Symbiotic Gauntlet will boost your Attack Damage based on the amount of health you have.
How to get the Symbiotic Gauntlet ?
The Symbiotic Gauntlet can be obtained by defeating Guarian Arc who is a mid-boss in episode 5 of the story campaign, The Sentinel. This piece of gear will drop on Normal and Advanced difficulty.
Personal Note:
The Symbiotic Gauntlet is the best attack damage legendary in the game. This goes for ranged characters and for melee characters. It also comes with a bunch of max hp, which is one of the best survivability stats as well. Therefore the Symbiotic Gauntlet is in my Top 10 Legendary Gear.