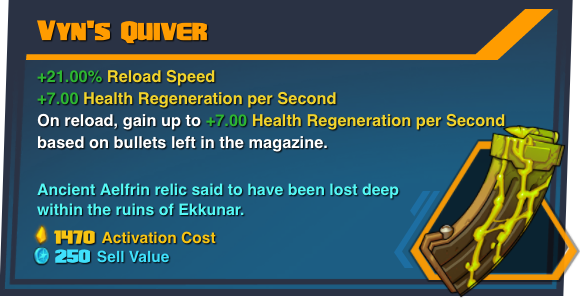 Gear Description:
The Vyn's Quiver is a legendary piece of Gear  that increases your reload speed and provides health regeneration.
Legendary Effect:
The legendary effect on the Vyn's Quiver will provide health regeneration based on the amount of bullets that are left in your ammo clip when reloading.
How to get the Vyn's Quiver ?
The Chrono Key can be obtained by defeating Guarian Vyn who is a mid-boss in episode 5 of the story campaign, The Sentinel. This piece of gear will drop on Normal and Advanced difficulty.
Personal Note:
The Vyn's Quiver is an excellent utility piece for characters that need to reload. This legendary can provide a lot of health regen as well as a lot of reload speed. It's a great way to get some health regen on characters that don't have any other way to heal themselves while still getting the benefit of that extra reload speed. It's even better in PvP when you're probably using one of your loadout slots for a free shard generator and need to cram as much as you can into your two remaining slots. Vyn's Quiver is in my Top 10 list of best Legendary gear.